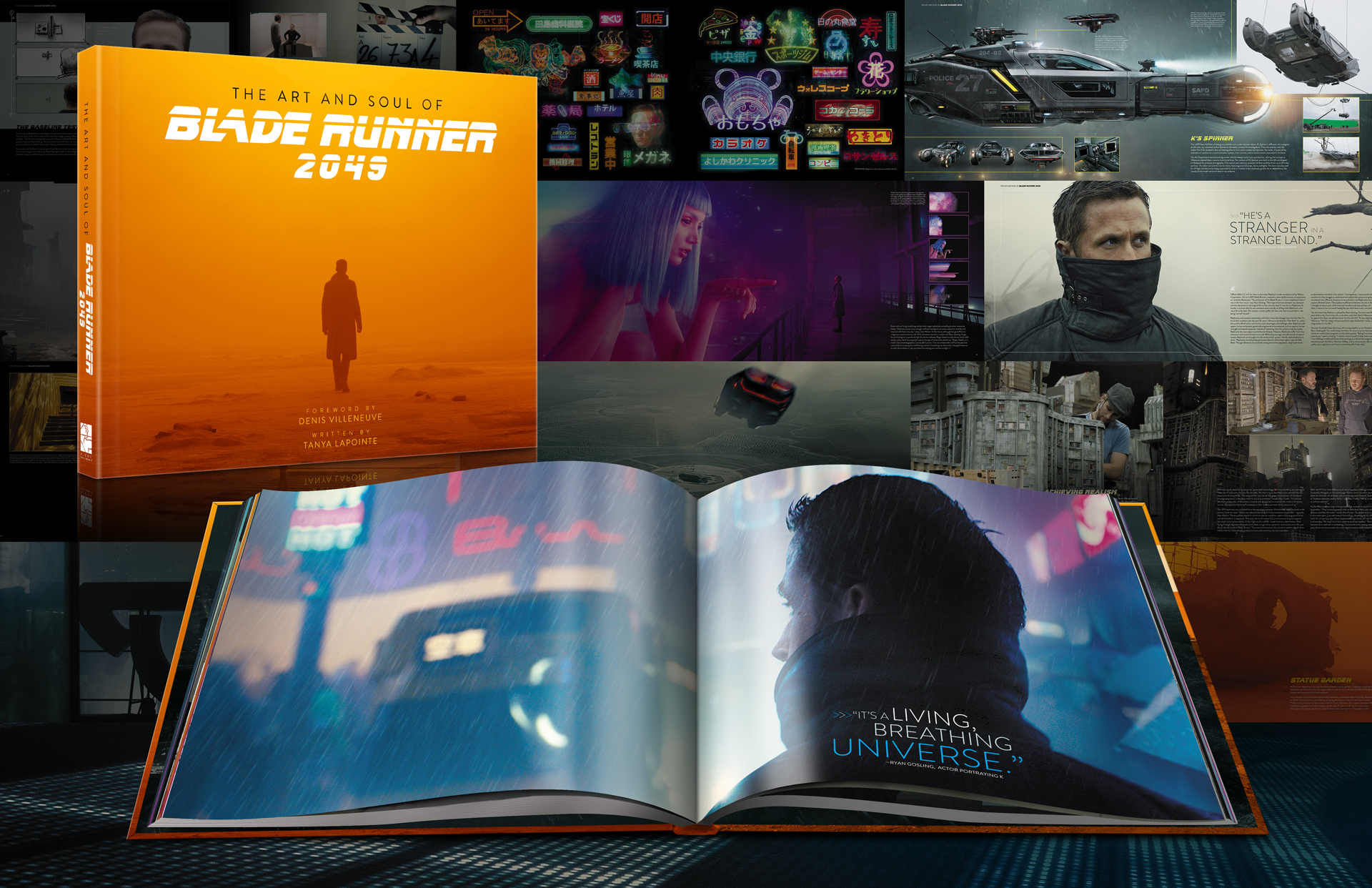 Alcon Entertainment and NECA have aligned with Genuine Entertainment as a brand manager and literary packager on Blade Runner 2049, entrusting us to produce and publish a premium art book, which captured director Denis Villeneuve's creative process in a display-worthy art piece and offered a mesmerizing look into the unforgettable characters, iconic environments, and unbelievable technology featured in this epic cinematic achievement. Genuine CEO Joe LeFavi served as Publisher, Creative Director, and Managing Editor on the publication.
Unlike most art books produced by outside licensees in no way associated with the production, Alcon self-published this book in order to work directly with the film's creative team and provide unprecedented access to the making of this groundbreaking film. Chronicling the production for two years straight, journalist Tanya Lapointe intimately captured their creative process, giving readers an insider's look into the development of the film and the creative/technical innovations bringing that world to life. Much like the film, the book strove to defy expectations and deliver a uniquely authentic and premium experience.
Once production had wrapped, LeFavi embedded into the post-production crew, becoming the archivist and historian of the film's vast mythology. Working over six months on the Sony lot, LeFavi curated over 70,000 images, 800 pages of transcripts, and endless hours of footage. Villeneuve worked daily alongside LeFavi and Lapointe on its artistic and editorial direction, while over 100 cast/crew members made personal contributions, with Ryan Gosling and many others writing full passages on their process and appreciation for the film. Weta Workshop and multiple effects houses created original assets and special shoots to reveal trade secrets and techniques. The set photographer from the original Blade Runner came out of retirement just to capture its sequel. And best of all, the film itself looked stunning on the page at a premium 11" X 14" spread, with every frame pulled from the large-format IMAX print in HD resolution and colorized by cinematographer Roger Deakins himself to perfectly match the film's vision on-screen.
Needless to say, this was not your standard licensed product. This was a labor of love from every person involved with the film. We all knew that BR2049 was something special, so we went above and beyond to make this book the best in its class. That's why the book was entitled The Art and Soul of Blade Runner 2049. The book became just that – the very spirit of the production and a sincere testament of love, gratitude, and goodwill for the film and fandom that meant so much to us all.
Distributed by Neca and Titan Books, The Art and Soul of Blade Runner 2049 was an instant hit for Alcon, selling over 40,000 copies in its first week of pre-sales alone. Celebrated since as one of the best art books of the year, we are confident that it will stand alongside the film as a meaningful contribution to the Blade Runner legacy for years to come. To quote our review from On Magazine, "Blade Runner 2049 is not only one of the best sequels ever made, it's also spawned one of the best art/making of books ever produced. And coming from someone whose been collecting them since the first film was released, there's no higher praise."
"The Art and Soul of Blade Runner 2049 is PRECISELY the kind of deeper dive that I want when I pick up a book in this genre. This book delivers with deep background on the creative process of making the film, insights to the making of it, and magnificent concept art that covers the entire scope of production. This is a unique and incredible film and this book is a more than worthy addition to the Blade Runner universe we all love." – Adam Savage (Tested.com, MythBusters)