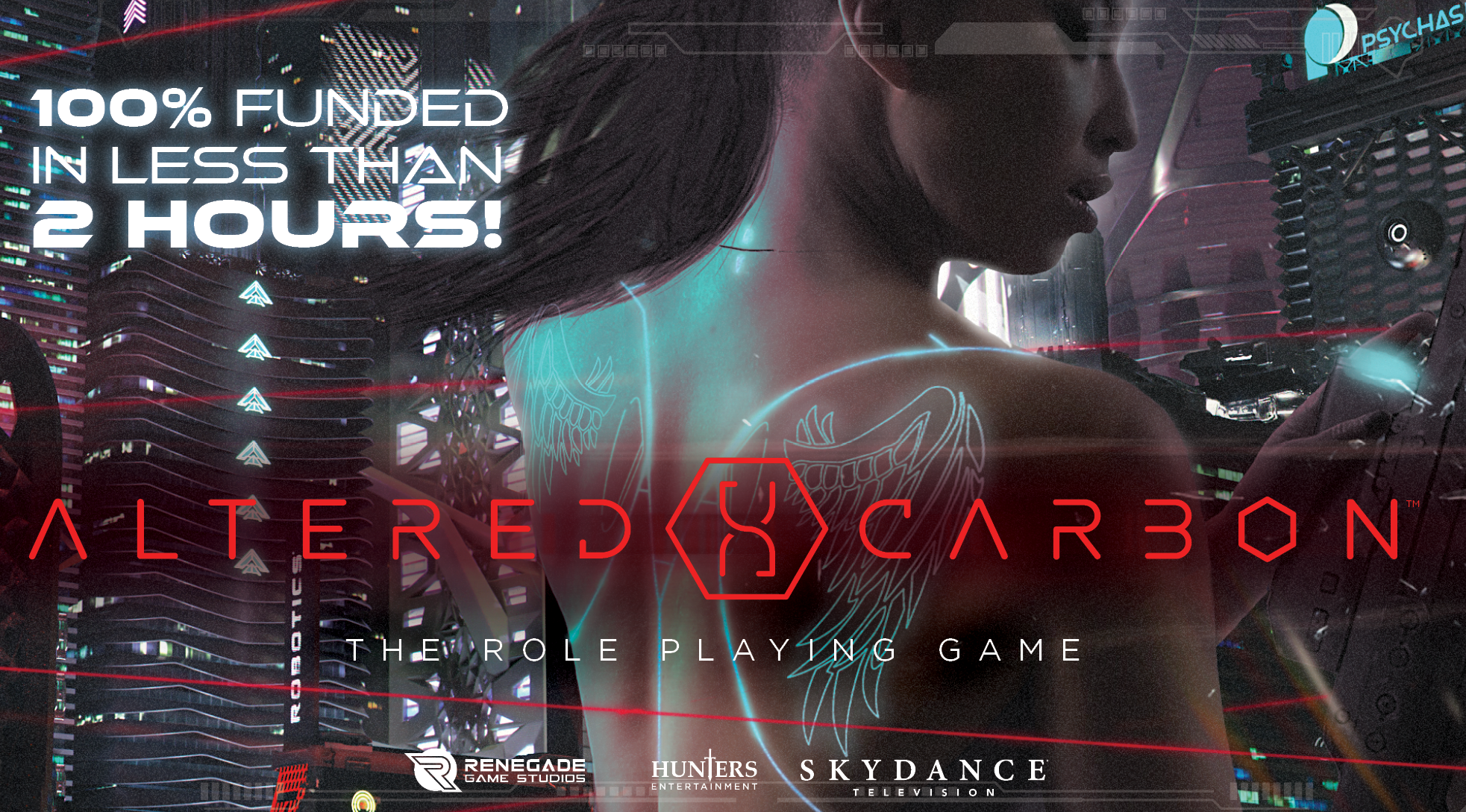 Our Kickstarter campaign for Altered Carbon: The Role Playing Game with Skydance TV, Hunters Entertainment, and Renegade Game Studios launched at 7am PST. By 9am PST, over 165 backers helped us to achieve our $20K funding goal, ensuring that our tabletop roleplaying game will hit the shelves later this year.
This news follows their WonderCon 2019 announcement that Skydance Media reached a multi-year licensing agreement with Hunters to produce tabletop role-playing games set within the stunning sci-fi universe of the hit Netflix series recently renewed for a second season with Anthony Mackie (Avengers) in the lead role.
Based upon the best-selling novels by Richard K Morgan, Altered Carbon is set centuries into the future when the human mind has been digitized and the soul itself is transferable from one body to the next. This twisted reality of transhumanity enables Altered Carbon: The Role Playing Game to create challenging stories, complex characters, and century-spanning epics, all which explore the darkest aspects of human nature that the value of life and death once held in check.
The game is set in California during the year 2384, the same year and setting as the first book and Season 1 of the Netflix series. There players explore the futuristic metropolis of Bay City, taking control of police, military, technicians, artificial intelligence, CTAC special operatives, and the influential elite of high society on endless sci-fi adventures. Hunters designed a new game system for this transhumanist future, offering players unique opportunities to augment abilities, utilize futuristic weapons and technology, even "re-sleeve" minds into new bodies, even post-death… all at a cost. Unlike most RPGs where skill trees are set and death is an ever-present threat, the character abilities and storytelling possibilities in Altered Carbon may change from one Sleeve to the next… making gameplay more versatile, while empowering the story to steer character advancement at its own pace.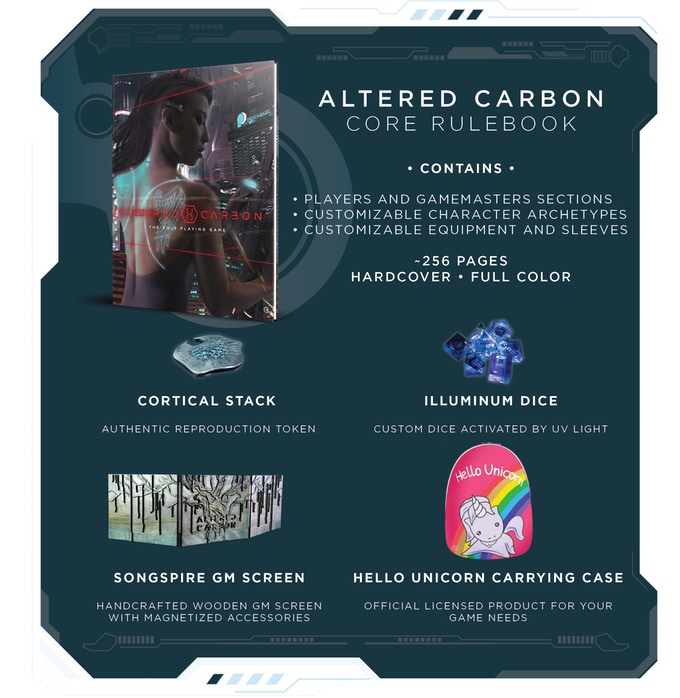 The full-color core rulebook for Altered Carbon: The Role Playing Game is available now for $50 on Kickstarter, containing everything that gamemasters and players need to play: an in-depth exploration of the Altered Carbon universe, extensive game mechanics, two adventure modules, and tons of original artwork and never-before-seen concept art that immerse players in the neon-drenched cyberpunk sandbox.
The Kickstarter also features limited-edition offerings such as a Deluxe Edition of the core rulebook, a Cortical Stack challenge coin, UV-activated dice sets, and a game accessories carrying case inspired by the infamous Hello Unicorn backpack.
The Envoy Bundle is available for $250 and contains everything a gamemaster needs to host an Altered Carbon RPG session at home, including the Deluxe Edition rulebook with two adventure modules, game reference cards, a GM Screen showcasing Bay City, a limited run UV-activated dice set, a Cortical Stack challenge coin, a limited-run 8.5 x 11 print, an Ouroboros temporary tattoo, and the Hello Unicorn game accessories carrying case.
Those who want to take their Altered Carbon experience to the next level can enjoy the higher-level pledges, which include handmade gaming accessories from Dog Might Games,  personalized artwork, and a once-in-a-lifetime opportunity to fly to LA for a photoshoot to portray a canonical character featured in their next RPG supplement.
"We at Hunters Entertainment are extremely grateful to all of our amazing backers who have supported us in reaching our goal on Kickstarter and making Altered Carbon: The Role Playing Game a reality," says Ivan Van Norman, CMO and Co-Founder of Hunters.
With their $20,000 funding goal reached, Hunters is now focusing on their "Neurochem" stretch goals, which unlock additional materials and gaming accessories such as a Bay City folded map, the "Osaka" sourcebook, and a one-shot liveplay series titled Bay City Confidential. A seasoned producer and gamemaster of liveplay series, Hunters has worked with market leaders like Critical Role, Geek & Sundry, Gen Con, and Hyper RPG on several liveplay series including Sagas of Sundry, We're Alive: Frontier, and D&D's Stream of Many Eyes. Akin to these shows, Hunters will produce an original Altered Carbon tabletop RPG campaign starring a yet to be release cast of some talented voice and TV actors, with the number of episodes determined by the number of stretch goals unlocked throughout the Kickstarter campaign.

Kickstarter Exclusive Songspire GM Screen from Dog Might Games



Altered Carbon 32mm Game Miniatures from Warcradle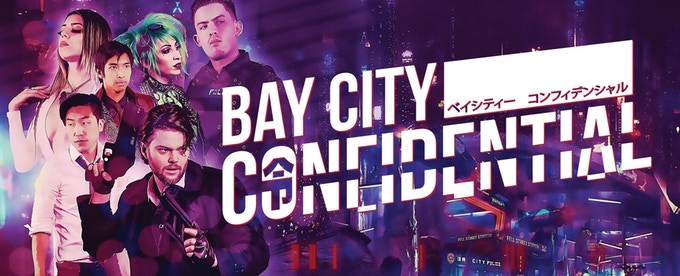 Original streaming RPG series from Hunters Entertainment
Want to learn more about Altered Carbon: The Role Playing Game? Check out the Quick Start, which delivers an overview of the fictional universe, tutorials for the game engine, and a brief adventure to ease new players into the game. Then show your support for the 28-day Kickstarter campaign running until September 23rd. Delivery of the final product is expected in Q1 2020, distributed  through their global publishing deal with Renegade Game Studios.
The Skydance-Hunters deal was forged by Joe LeFavi of Genuine Entertainment, who is managing the license alongside Hunters as an editor on the game itself. LeFavi is no stranger to tabletop, as he is currently managing the master tabletop gaming license for Dune with Legendary and Gale Force Nine, the Alien tabletop roleplaying game with Fox and Free League Publishing, and multiple initiatives for Paradox Interactive and the World of Darkness franchise. Skydance Media is represented by Evolution.
Altered Carbon Kickstarter campaign link: https://www.kickstarter.com/projects/huntersbooks/altered-carbon-the-role-playing-game