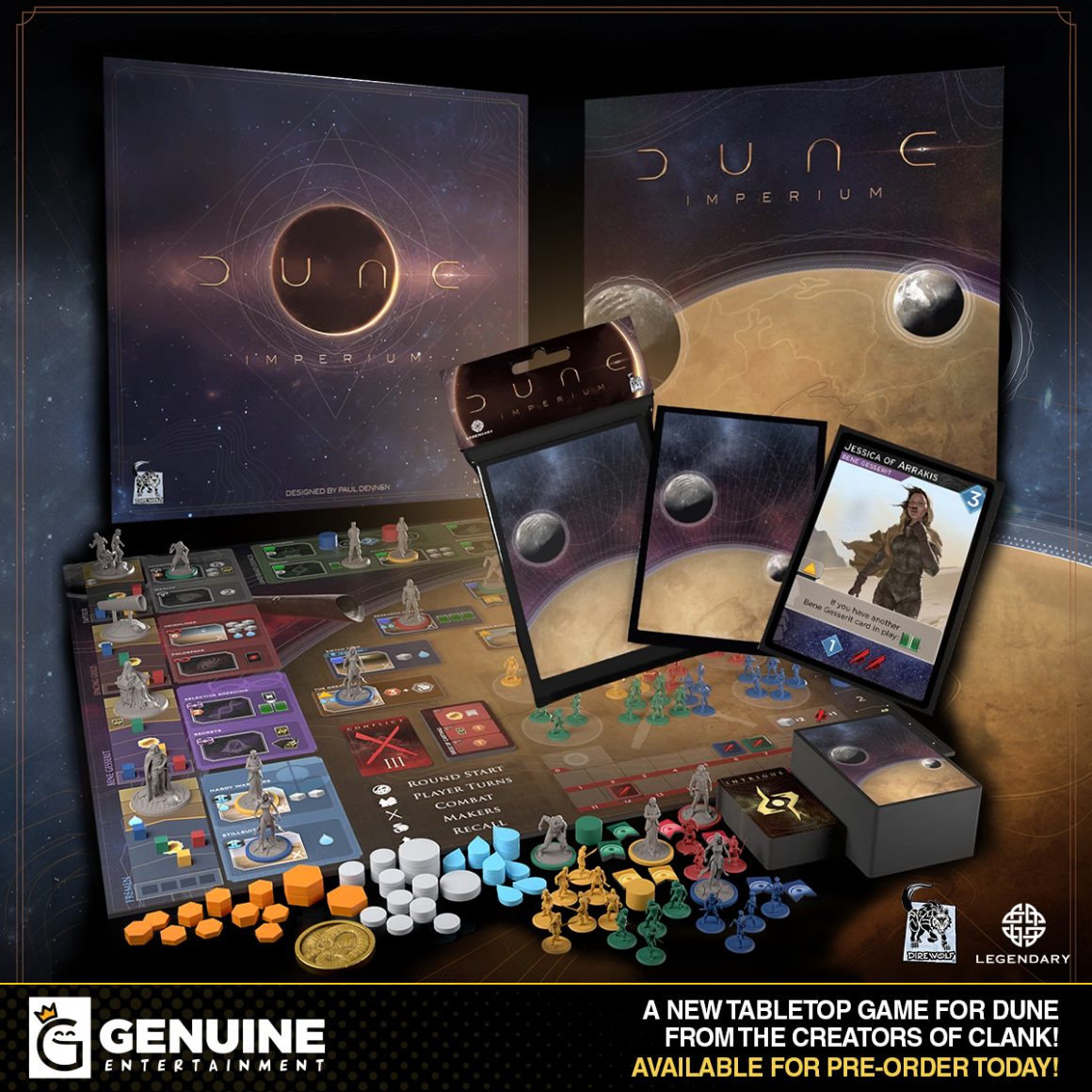 DUNE: IMPERIUM, our first original tabletop game set within the Dune universe, is available for pre-order starting today! Published by Dire Wolf and designed by Paul Dennen (the creator of Clank!), Dune: Imperium blends deck-building and worker placement in a deeply thematic strategy game for 1-4 players that Polygon calls a "fast and merciless" fight over the spice trade that unfolds across the Dune universe.
The base game includes the Game Board, 13 Wooden Agents, 70+ Wooden Player Pieces, 60+ Wooden Resource Tokens, 200+ Cards, 8 Leaders, 25 Punch Tokens, and the rulebooks.
Players can then enhance their Dune: Imperium experience with the Deluxe Upgrade Pack! This cosmetic expansion upgrades the components of the base game for a more immersive experience. The contents come in an oversized box with plastic storage trays that store the whole game (including sleeved cards). With 65 beautifully sculpted miniatures figures and a hefty coin to bestow upon the first player, your game will be fit for an Emperor. Contents include 4 Alliance Token miniatures, 12 Agent miniatures (with base rings), 1 Mentat miniature, 48 Troop miniatures, 1 First Player coin, and premium card and component trays.
Fans and retailers can pre-order the $50 game today, along with a $55 Deluxe Upgrade Pack containing a sundry of premium cosmetic components, including an oversized box, plastic storage trays, card sleeves, and 65 beautifully sculpted miniatures. Order soon for exclusive promo cards while supplies last!
Dune: Imperium is distributed worldwide across the US, Europe, Latin America, Australia, New Zealand, and Russia thus far. Barring unforeseen delays, English-language editions are expected to ship in December, with non-English editions and the Deluxe Upgrade Pack shipping in Q1 2021.
Pre-order today via the Dire Wolf Digital online store at: