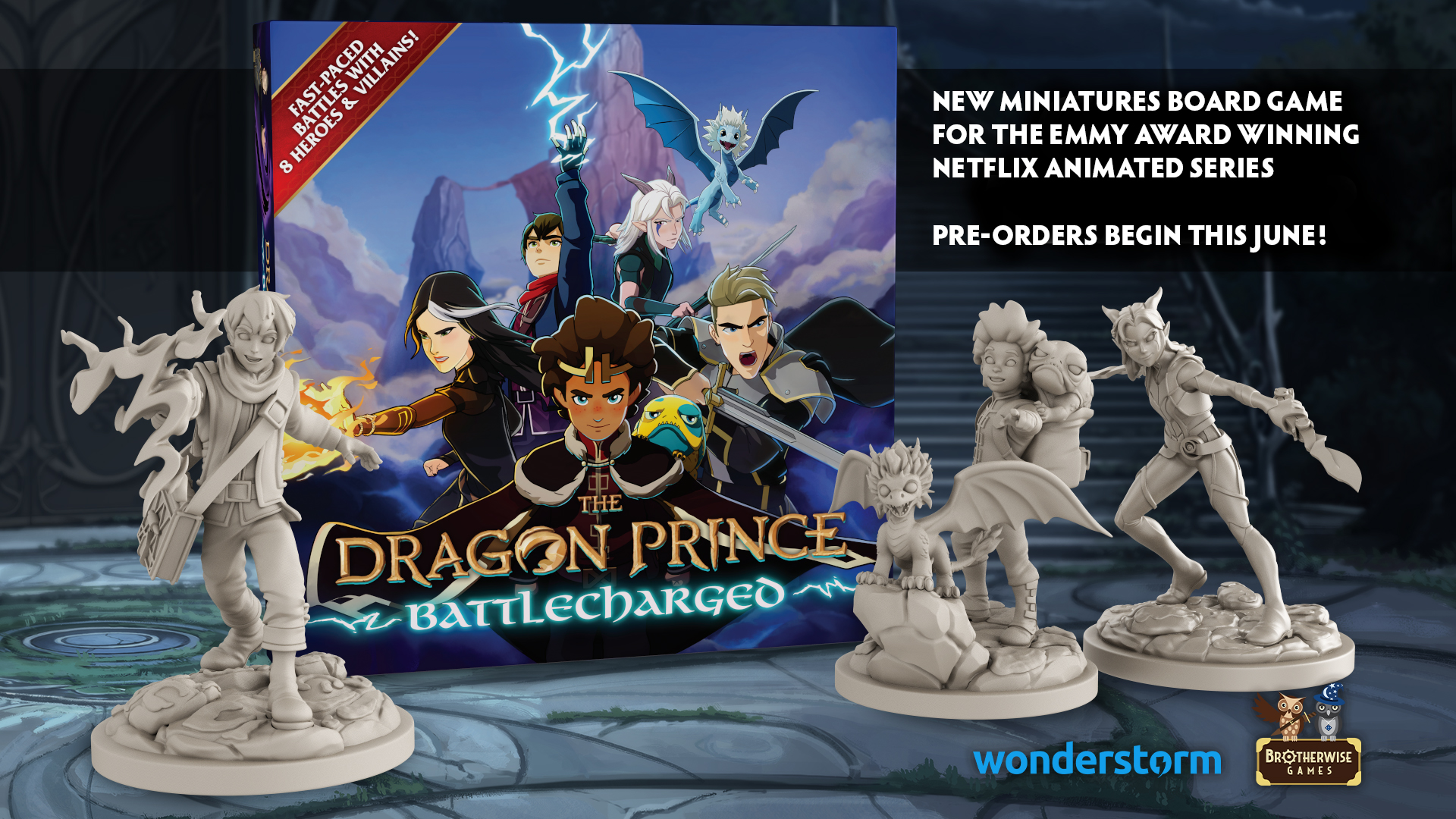 El Segundo, CA (March 16, 2021) – Today Wonderstorm and Brotherwise Games announced a partnership to create strategic board games for The Dragon Prince, the Emmy® Award-winning Netflix original series set in the rich and diverse fantasy world of Xadia. Wonderstorm and Brotherwise Games were brought together by Joe LeFavi at Genuine Entertainment, who manages Wonderstorm's tabletop gaming rights for The Dragon Prince and serves as a managing producer on their growing line of tabletop games based upon the series.
The first board game from Brotherwise Games will be The Dragon Prince: Battlecharged. The game's trailer, released today, reveals that Battlecharged features detailed miniatures of eight heroes and villains. Players control their miniatures on six different battle maps, playing cards to unleash attacks and special abilities. Brotherwise Games will offer the game for pre-order on its website in June 2021, ahead of a Fall 2021 release at game stores around the world.
"The Dragon Prince is a truly epic series, and as gamers we've wanted to play in this world since we saw the first episode," said Chris O'Neal, CEO of Brotherwise Games. "Our goal is to give fans a premium board game that's a total blast whether you're a seasoned gamer or a tabletop novice." The Battlecharged system combines tactical miniatures with fast-paced card battles, and customized decks mean every character has a unique play style.
"We love how the characters of The Dragon Prince really come through in Battlecharged," said Aaron Ehasz and Justin Richmond, co-creators of The Dragon Prince. "Rayla darts in and out of combat, Callum strings together spells, and Ezran inspires his team and calls on animal companions. We think players are going to have a great time mastering each character, trying different team-ups, and discovering combos."
The Dragon Prince: Battlecharged is designed to grow with future expansions, with this first set featuring eight fan-favorite characters: Rayla, Ezran, Callum, Amaya, Janai, Viren, Claudia, and Soren. This robust roster, premium production values, and deep replayability are available for a $39.95 suggested retail price.
Fans can sign up at brotherwisegames.com/thedragonprince to be notified when pre-orders go live. Between now and June, Wonderstorm and Brotherwise Games will reveal more details about the game on their social media platforms.
The Dragon Prince premiered globally on Netflix in September 2018 and immediately topped popularity lists across Rotten Tomatoes, Fandom, and Tumblr. It was quickly renewed for second and third seasons, which premiered in 2019. Last year, Netflix took the unprecedented step of renewing the series for four additional seasons. With this multi-season renewal, Netflix committed to fully realize the creators' vision for the seven-season Saga. The Dragon Prince won the 2020 Emmy® Award for Outstanding Children's Animated Series and has been a top-ten digital original for all of its season runs. Forbes named it one of the best fantasy shows on TV and all three seasons have a 100% fresh rating on Rotten Tomatoes.