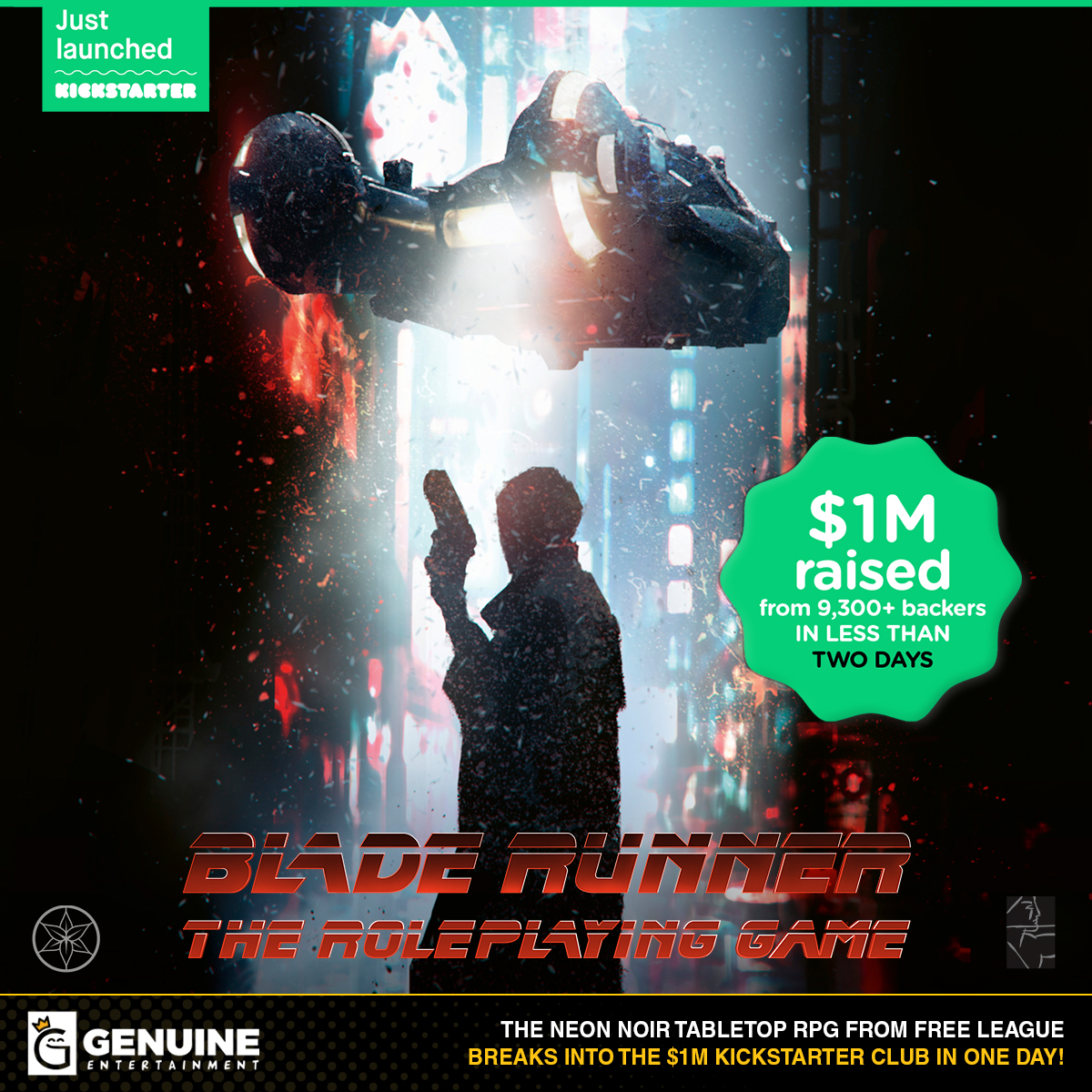 It's official! BLADE RUNNER: THE ROLEPLAYING GAME has taken flight on Kickstarter, reaching its funding goal in 3 minutes and earning $1M+ from 9k+ backers in its first 24 hours!
Voted the #1 Most Anticipated RPG of 2022, the BLADE RUNNER RPG campaign is now live on Kickstarter and already unlocking a long list of stretch goals, including additional content to the Core Rulebook and gaming accessories such as custom dice, cards, and handouts to the Starter Set, with much more on the way.
The Kickstarter campaign will wrap up on May 26th. Shortly after the Kickstarter ends, all backers will get early access to PDF versions of the complete Core Rulebook and Case File 01 – months ahead of the official retail release in Q4 2022.
Tomas Härenstam, Free League co-founder and lead game designer of the ALIEN RPG, fills the same role for the BLADE RUNNER RPG. Original artwork comes from lead ALIEN RPG artist Martin Grip, with yours truly serving as the lead setting writer, brand manager, and producer on the game series.
Today is a surreal day. This is the project that brought Tomas and I together all those years ago. This is the labor of love that we've invested years into handcrafting every little detail. This is the very personal tribute that we've both made to one of our favorite, most influential franchises and fandoms ever. Over 100,000 words in that Core Rulebook were typed on the same keyboard I'm using to type this post. And now over 5,000 people are already guaranteed to read them, and it's only four hours into a 23 day campaign.
If you add my work on the Blade Runner 2049 art book, I've spent nearly six consecutive years fully immersed in the Blade Runner universe. And speaking from experience, I can't wait for fans like me to do the same and then some.
I'm honored that Alcon trusted us to make this game a reality. And I couldn't have asked for a better RDU partner in Tomas and all the team at Free League. After such a long and magical journey, it's just so hard to believe that this game is finally here. That we can finally share it with people. And I can only hope you all enjoy getting lost in this neon noir wonderland as much as I did. I for one will never be the same.