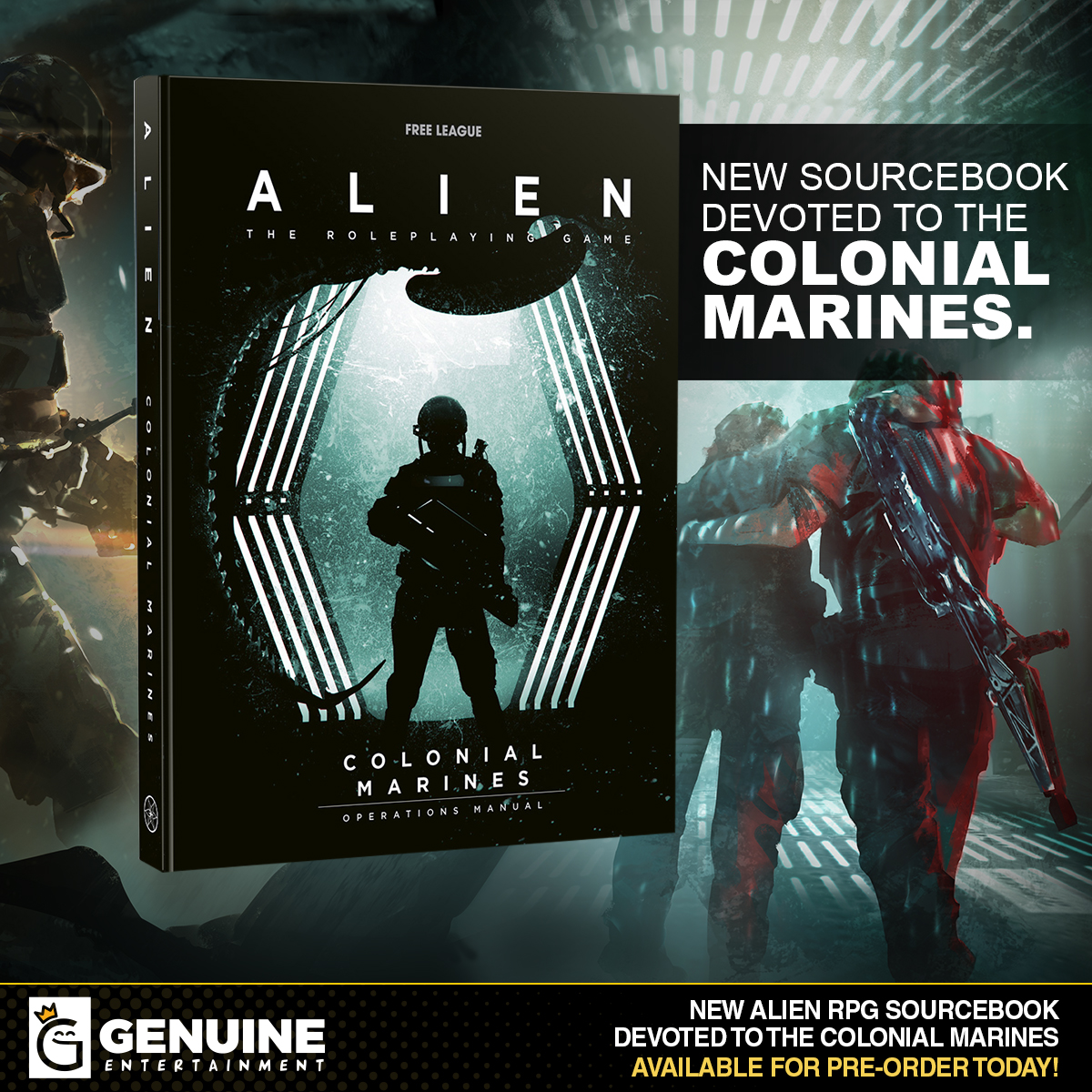 Genuine Entertainment is proud to announce that our next release for the Alien RPG saga is the COLONIAL MARINES OPERATIONS MANUAL, and it's available for pre-order starting TODAY!
Hitting shelves March 2021, this massive, lavishly illustrated sourcebook arms you with all the tools you need to run open-world campaigns as the glorious Colonial Marines. You'll learn about the history of the organization, navigate its inner workings, equip yourself with powerful weapons and vehicles, then charge out into the Frontier on five thrilling missions playable in any order. Please note that the ALIEN RPG core rulebook is required to use this book.
Published by Free League Publishing in partnership with 20th Century Studios, the official ALIEN roleplaying game Core Rulebook debuted in 2019, immediately selling out its first print run and swiftly entering the Top Five best-selling tabletop RPGs of Fall 2019. The ALIEN RPG series has since become a critical and commercial success worldwide in seven different languages, recently winning the 2020 ENNIE Gold Award for Best Game and the 2020 UK Game Expo People's Choice Awards for Best RPG and Best RPG Adventure.
 Key Features:
History & Organization – the inside story of the illustrious Colonial Marine Corps.
Creating Marines – expanded character creation rules for grunts of all kinds.
Weapons & Vehicles – an extensive chapter with new gear, gloriously illustrated.
The Frontier War – the framework and backstory for a Colonial Marines campaign.
Factions on the Frontier – the powers that be and their dark agendas.
Marine Missions – five thrilling missions for your Marines, playable in any order.
The Endgame – the showdown against a deadly enemy, finally revealed.
PRE-ORDER TODAY at https://www.alien-rpg.com!