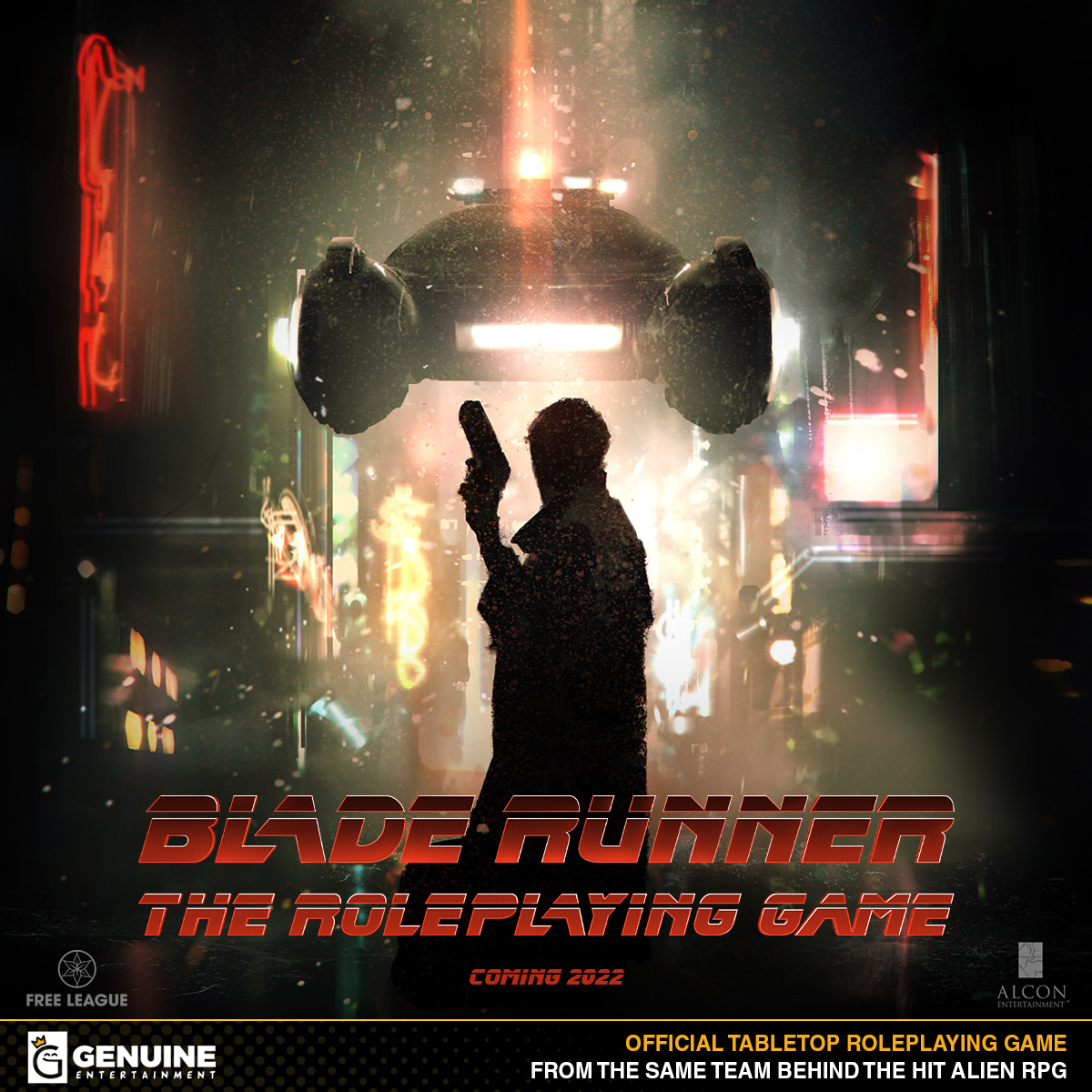 I am elated to reveal that Free League Publishing, Alcon Entertainment, and I have teamed up to produce the official tabletop roleplaying game set within the iconic Blade Runner universe.
Tomas Harenstam, Free League co-founder and game director of our Alien RPG, will oversee game design, with original artwork by lead Alien RPG artist Martin Grip and none other than YOURS TRULY serving as a producer, brand manager, and lead setting writer on the game series.
The Core Rulebook will debut in 2022 in celebration of Blade Runner's 40th anniversary, launching an ongoing RPG series that draws inspiration from the full scope of the fictional universe, spanning four decades of world-building across all forms of media including Blade Runner and Blade Runner 2049.
Free League and I have shared so much joy together on the Alien RPG. So combining forces again on another of my pop cultural obsessions with Tomas, Martin, and the FLP team, let alone serve as the lead writer entrusted to explore and extend that world into a RPG sandbox all our own… it's been a dream. A bucket list experience that my not-so-inner child can't believe is real.
Mind you, making the art book for Blade Runner 2049 was our first big license at Genuine. I had to exclusively commit to that one project for eight months, but when somebody asks you to embed into the post-production crew for Denis Villeneuve's sequel to Blade Runner, you say YES. Crammed into a tiny office on the Sony lot, I worked alongside that film crew and interacted with the producers, the film editor, the VFX houses, even Denis on a daily basis. Personally curating over 70,000 assets. Memorizing every shot, every line of dialogue, every little corner of that universe. I had never been so utterly immersed in one project, one story world, in my entire career. And suffice it to say, it was a life-changing experience for me. An unforgettable collaboration that inspired not only one beautiful book, but also a pivotal turning point in my life. Dedicating my new company and this next chapter of my career to only passion projects — working with people I admire and making positive, measurable, and meaningful contributions to the companies and IP I love and respect the most.
Between the art book, the upcoming video game with Nightdive Studios, and now this RPG with Free League, it's impossible that BLADE RUNNER, one of my most cherished fandoms ever since I first fell in love with cinema and sci-fi as a whole… that it's become such a special part of my life. It's an honor and humbling responsibility that I would've never dreamed for myself. And yet here we are. And here we go!
So please check out the press release and website linked below to learn more about the RPG, then sign up for the newsletter for the latest & greatest as the game develops.
Press release:
https://lnkd.in/gM_zdnMU
Website:
www.bladerunner-rpg.com
Game trailer:
https://www.youtube.com/watch?v=yhc0zFKux2g