Genuine Entertainment has teamed up with Arcane Wonders and tinyBuild on the upcoming tabletop game Hello Neighbor: The Secret Neighbor Party Game designed by Ariel Rubin & Juliana Patel. Joe LeFavi, CEO & Creative Director at Genuine Entertainment, who forged the publishing partnership and packaged designers Rubin & Patel onto the project, will serve as managing producer on the game series.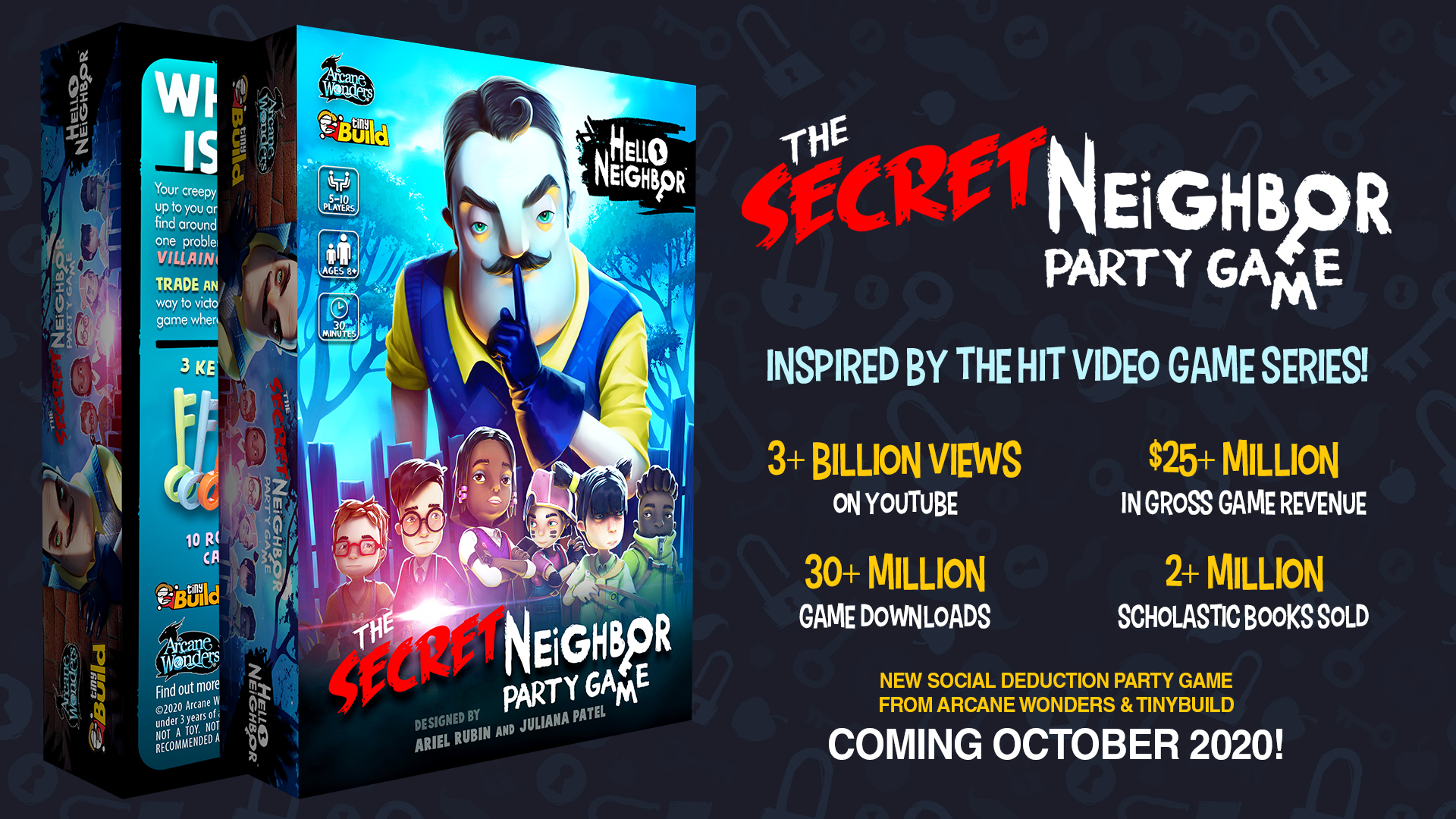 Building off the wildly successful Hello Neighbor and Secret Neighbor video games, this social deduction game brings the world of Hello Neighbor to the real world. Plucking from classics like Werewolf and The Resistance, this new game requires no narrator and no eliminations, ensuring everyone at the table remains engaged!
5-10 players take on the roles of either one of the neighborhood kids, the treacherous neighbor or even a secret neighbor. As one of the kids you will need to use your items wisely if you are to locate the keys and unlock the door to win, but beware as not only are the neighbors at the table trying to trick you, but one of your fellow kids is actually a SECRET NEIGHBOR!
Hello Neighbor: The Secret Neighbor Party Game will be available everywhere October 2020 with a limited number of copies available during GenCon Virtual.
Hello Neighbor is an obnoxiously popular kids entertainment franchise with a global, multi-generational community of highly-engaged gamers, makers, and musicians  of all ages. The booming video game series boasts over 30+M game downloads, $25M+ in game revenue, and over 3 billion views of YouTube, fueled by a growing consumer products program spanning toys, apparel, and an ongoing Scholastic book series with 2+ million units sold.
MORE ABOUT THE GAME:
Your creepy Neighbor has something locked up in their basement, and it's up to you and your friends to reveal their plot. You'll need to use Objects you find around the Neighbor's house to locate three different Keys, but there is one problem: some of your friends are secretly villainous Neighbors in disguise! Trade and cooperate as one of the Kids or steal and lie your way to victory as one of the Neighbors in this thrilling social-mystery card game where you're never quite sure who's on your side.
COMING TO YOUR NEIGHBORHOOD
OCTOBER 2020