PORTAL GAMES SIGNS UPCOMING FEATURE FILM DUNE AS OFFICIAL PARTNER FOR THE HIT DETECTIVE GAME SERIES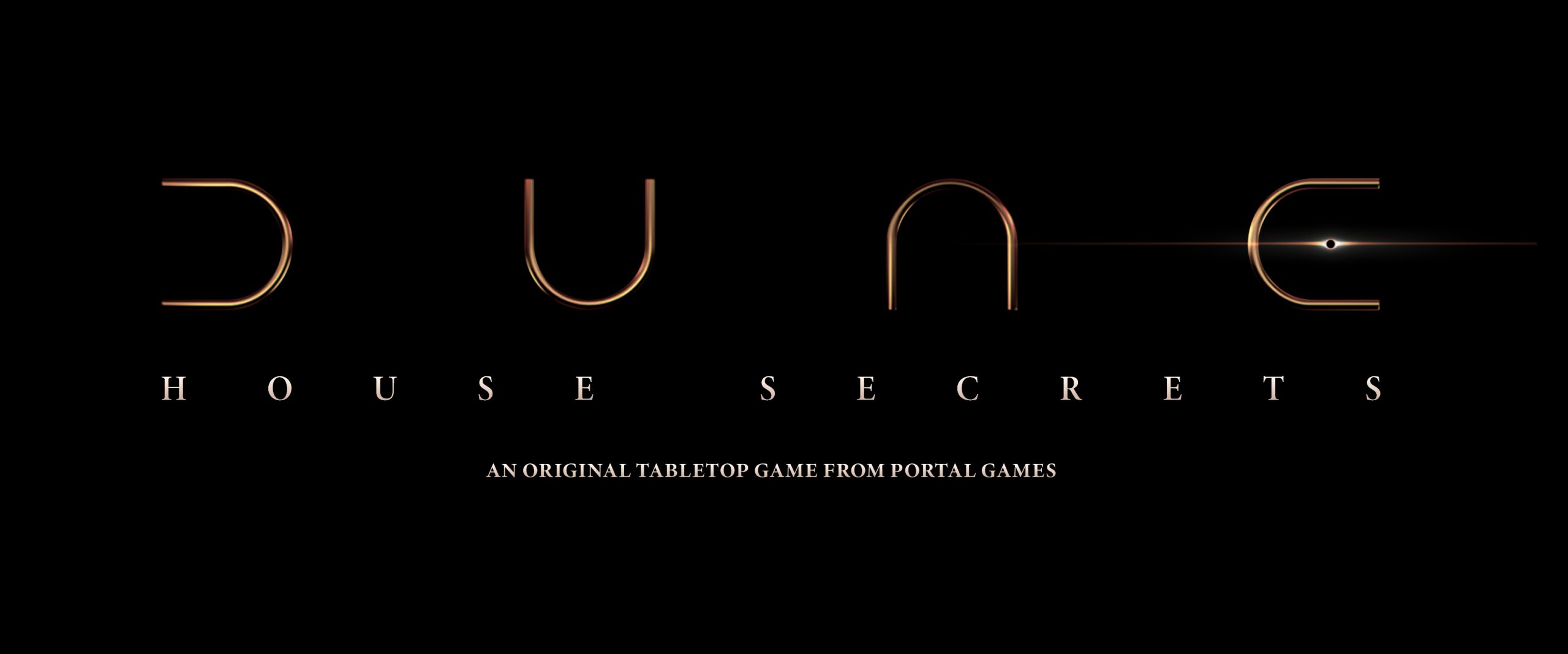 A trilogy of Dune-themed cooperative adventure games using the Detective system will begin rolling out in conjunction with the film's fall release.
Knurów, Poland – January 23, 2021 – Portal Games is proud to announce a partnership with Gale Force Nine (GF9), Legendary Entertainment, Herbert Properties LLC, and Genuine Entertainment to produce an officially licensed board games set within the iconic Dune universe, created by science fiction author Frank Herbert. Taking inspiration from both the seminal book series and Warner Bros. Pictures and Legendary Pictures' highly-anticipated film from director Denis Villeneuve, Dune: House Secrets – the first game in a planned trilogy – will release in Q4 2021.
Featuring the cooperative game system used in Portal's award-winning Detective: A Modern Crime Board Game, this story-driven adventure game will deliver a deeply thematic experience that drops one-to-five players right in the middle of the highest stakes unfolding on the harsh desert planet of Arrakis.
In Dune: House Secrets, players take on the roles of rebels who must solve a series of challenging missions with a finite amount of time and resources. Players cooperatively make decisions on how to progress the story, as they decide to explore different regions of the world, follow leads, leverage allies, and overcome the opposition of all kinds. During gameplay, players utilize a variety of physical and digital game components to steer the narrative in fun and surprising directions – a deck of cards with essential clues and plot twists, a dozen physical handouts, and a dedicated website with additional resources – for a truly immersive experience.
Beginning with an introductory Prologue designed to get players acquainted with the massive Dune universe, the game then continues with three big adventures, each taking roughly two-to-three hours to play. During each episode, players can earn experience points to level up their characters in between missions and unlock new options in future gameplay. Each adventure can be played separately as standalone episodes. Yet should players complete all three episodes, they will unravel a master game narrative with an epic climax and unforgettable resolution with lasting impact on the future two games in the trilogy.
Dune: House Secrets is designed by board game industry veteran Ignacy Trzewiczek and written by Przemysław Rymer – both well-known for their cooperation on the hit Detective game series, which has sold over 100,000 copies worldwide in over a dozen languages. Joe LeFavi of Genuine Entertainment, who manages Dune's master tabletop gaming rights in partnership with Legendary and Gale Force Nine CEO John-Paul Brisigotti, brokered the Legendary-Portal deal and will serve as a producer on the game series.
To learn more about Dune: House Secrets, visit www.portalgamesus.com and sign up for the newsletter for the latest news and previews.
To learn more about the iconic science fiction Dune novels, visit www.dunenovels.com.
ABOUT PORTAL GAMES
Founded in 1999 as a tabletop RPG publisher, Portal Games began to produce high-quality board games in 2007 and soon became one of the major tabletop game publishers in the world with award-winning titles like Detective, Empires of the North, Imperial Settlers, Robinson Crusoe, and Stronghold in their esteemed catalog. Over the past decade, our game design team lead by Ignacy Trzewiczek has won more than 100 industry awards and nominations, including Kenner Spiel des Jahres, Golden Geek, International Gamers Award, The Dice Tower Award, and multiple Game of the Year awards across the globe.
ABOUT DUNE
Oscar® nominee Denis Villeneuve directed Warner Bros. Pictures and Legendary Pictures' Dune. The film stars Oscar® nominee Timothée Chalamet, Rebecca Ferguson, Oscar Isaac, Oscar® nominee Josh Brolin, Stellan Skarsgård, Dave Bautista, Stephen McKinley Henderson, Zendaya, Chang Chen, David Dastmalchian, Sharon Duncan-Brewster, with Oscar® nominee Charlotte Rampling, with Jason Momoa, and Oscar® winner Javier Bardem. Villeneuve directed Dune from a screenplay he co-wrote with Jon Spaihts and Eric Roth based on the novel of the same name written by Frank Herbert. Villeneuve also produced the film with Mary Parent, Cale Boyter and Joe Caracciolo, Jr. The executive producers are Tanya Lapointe, Joshua Grode, Herbert W. Gains, Jon Spaihts, Thomas Tull, Brian Herbert, Byron Merritt and Kim Herbert.  Warner Bros. Pictures and Legendary Pictures Present a Legendary Pictures Production, a Film by Denis Villeneuve, "Dune."
ABOUT LEGENDARY ENTERTAINMENT
Legendary Entertainment is a leading media company with film (Legendary Pictures), television and digital (Legendary Television and Digital Media) and comics (Legendary Comics) divisions dedicated to owning, producing and delivering content to worldwide audiences. Legendary has built a library of marquee media properties and has established itself as a trusted brand which consistently delivers high-quality, commercial entertainment including some of the world's most popular intellectual property. In aggregate, Legendary Pictures-associated productions have realized grosses of more than $17 billion worldwide at the box office. To learn more visit: www.legendary.com.
ABOUT WARNER BROS. PICTURES GROUP
Warner Bros. Pictures Group is comprised of Warner Bros. Pictures, New Line Cinema, Warner Animation Group and DC-based film production. Warner Bros. partners with the world's most inspiring storytellers to create extraordinary entertainment on every screen for the global audience. Warner Bros. Pictures Group has been at the forefront of the motion picture industry since its inception and continues to be a leading creative force, producing the broadest slate of films comprised of worldwide theatrical releases and films premiering exclusively on HBO Max.
ABOUT HERBERT PROPERTIES LLC
Herbert Properties LLC is managed by the Herbert family, and is the copyright holder for the Dune series.  The brilliant Frank Herbert first published his classic bestseller DUNE in novel form in 1965, and he wrote 5 popular sequels to it.  After Frank's death in 1986, his son Brian Herbert and Kevin J. Anderson continued the series with 14 additional novels, extending the audience of the series with new international bestsellers. Brian Herbert, Byron Merritt, and Kim Herbert, officers of Herbert Properties LLC, are pleased to share in the exciting announcement of this new game set in the fantastic Dune universe. Website: www.dunenovels.com.
ABOUT GALE FORCE NINE
Gale Force Nine, LLC (GF9) specializes in creating hobby gaming products with rich strategic play based on licenses from fan-favorite media properties such as Dungeons & Dragons, Star Trek, Dr. Who, Dune, Firefly, and Aliens. With a global sales network and a specialized multi-lingual team of in-house game designers, we specialize in offering properties in over a dozen language markets around the world. Gale Force Nine is a wholly-owned subsidiary of the Battlefront Group. Visit www.gf9.com for more info.
ABOUT GENUINE ENTERTAINMENT
A leading expert of global franchise development and strategic licensing in genre entertainment, Genuine specializes in growing beloved brands and fandoms in new markets and ancillary media with quality and authenticity in equal measure. Versatile brand builders across all corners of pop culture, we package and produce best-selling, award-winning licensed content and consumer products alongside best-in-class partners. Latest & greatest credits include the hit Alien RPG with Free League Publishing (2020 ENNIE Gold Award for Best Game); the Altered Carbon RPG with Hunters Entertainment; Alcon's art book The Art and Soul of Blade Runner 2049; the video game Blade Runner: Enhanced Edition with Nightdive Studios; the master tabletop gaming program for The Dragon Prince, including the Tales of Xadia RPG with Fandom; the Dune master tabletop gaming program, including Dune: Imperium from Dire Wolf, the Dune RPG from Modiphius, and GF9's top-selling Dune (2020 Golden Geek Award for Best Thematic Game); the Hello Neighbor party game with Arcane Wonders; the comic book series and expandable card game for Vampire: The Masquerade with Vault Comics and Renegade Game Studios respectively; and the Voyage to the Stars comic book series with IDW. Come play at genuineent.com.