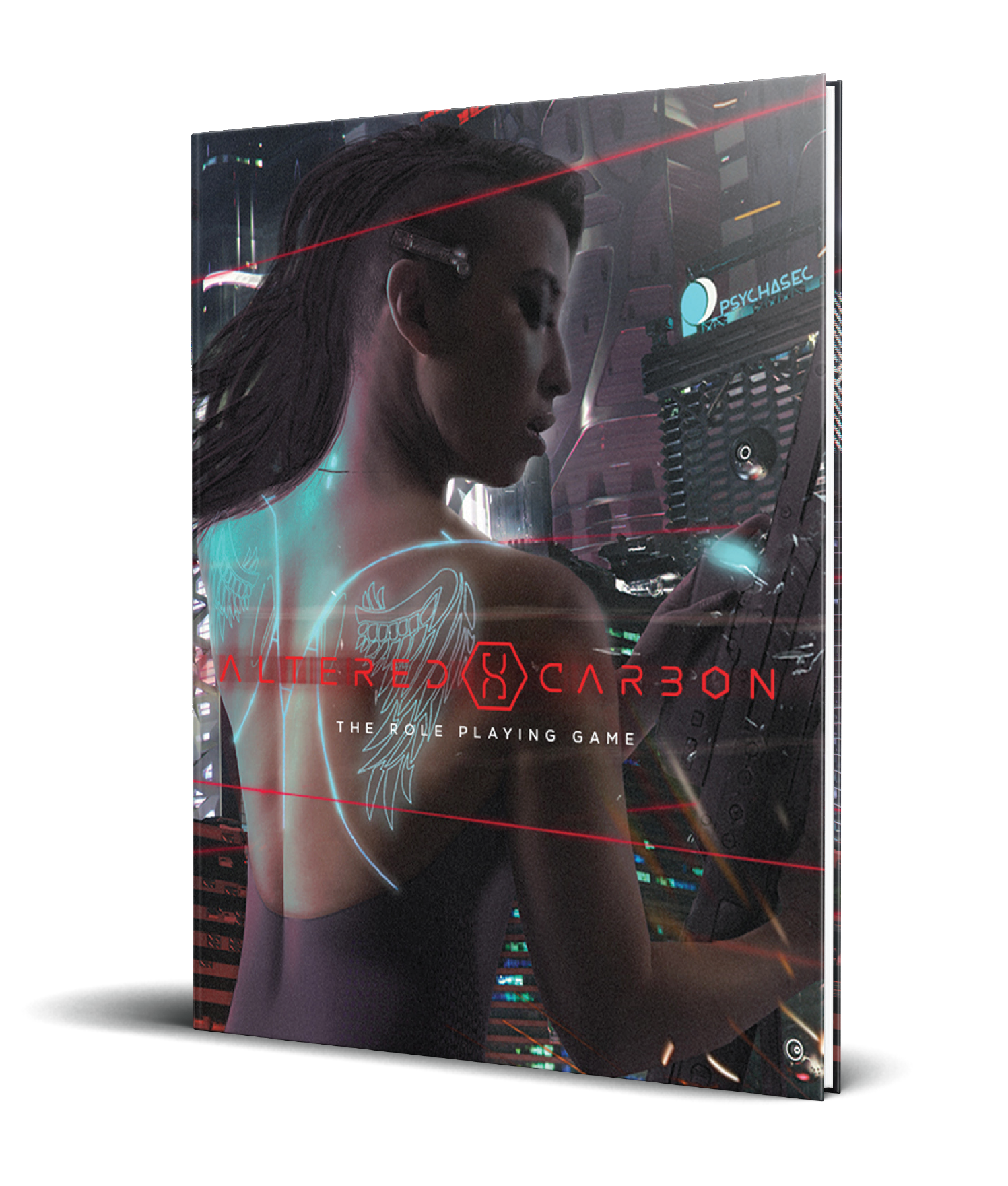 In this transhumanist neo-noir vision of the future, the human mind is nothing more than digital code -Digital Human Freight – saved and stored in a Cortical Stack, advanced technology that allows you to "re-sleeve" your entire consciousness into a new body.
In the Official Altered Carbon Role Playing Game, wear any body you can afford, transmit your mind across the cosmos in an instant, and, if you've got the credits and political cachet, you can re-sleeve time and again for centuries, accumulating enough wealth and power over the millennia to become the societal equivalent of an immortal god.
Included inside the Core Rulebook, you'll find:
• Rules to Play Archetypes ranging from Socialites to Soldiers
• Explore the expansive metropolis Bay City in both its Underground, and Atrium world.
• Storytelling focused rules, that help create immense danger inside of combat and intrigue outside combat.
• The means in which to transfer your characters digital consciousness into a new sleeve should they come to a tragic end.
With the prize of immortality at your fingers, the question is, what price will you pay? What stories will you tell?
Your neon drenched adventures await.
PRE-ORDER THE GAME NOW AND GET A FREE PDF OF THE RULES WHEN THE GAME RELEASES IN SEPTEMBER!
FEATURES:
• Solve unfolding mysteries in a gritty sci-fi noir setting — even the gamemaster may not know who the culprit is starting out!
• Rules to Play Archetypes ranging from Socialites to Soldiers!
• Dive straight into action with a dynamic zone-based combat system boasting exotic high-tech weaponry and streamlined options for more action-oriented gameplay!
• Experience immortality with the opportunity to transfer your character's consciousness, memories, and experiences into entirely new bodies.
BOOK DETAILS:
• Hardcover with 328 full color pages
• Based on the Altered Carbon Netflix Series by Skydance Television
• For Ages: 14+
YOU MAY ALSO BE INTERESTED IN:
Altered Carbon Role Playing Game -Deluxe Edition – Pre-Order!
$90.00
Coming in September 2020!
This limited edition Deluxe version of the Official Altered Carbon Roleplaying Game includes the same interior content as the core book, but with new dramatic cover art and an intricately designed die-cut slip case.
Altered Carbon The Role Playing Game GM Screen – Pre-Order!
$20.00
Coming in September 2020!
Gamemasters, keep your inner workings safe and sound behind this beautiful skyline of the futuristic Bay City, much like the actual Bay City in which many dark secrets and mysteries are sure to lie hidden until uncovered. Comes with useful game mechanics and systems detailed on the back for quick reference by the Gamemaster during sessions.
Learn more about the Official Altered Carbon Roleplaying Game here!